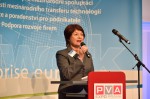 The fourth edition of international matchmaking Business meetings FOR ARCH was held on Trade Fair FOR ARCH at the exhibition area PVA EXPO PRAHA in Letnany on 22 September 2016.
This year's attendance was the highest, total of 121 companies from 12 countries have signed up! Besides ABF a.s. the event was organized by members of Enterprise Europe Network (EEN), Centre for Regional Development of the Czech Republic and Handwerkskammer Dresden in cooperation with partners from EEN and other institutions.
Matchmaking - Targeted business meetings - are very popular among businessmen: This is a prearranged business meetings both for exhibitors and visitors, where companies choose their partners based on cooperation profiles published in the catalog of participants. Given that these negotiations take place during the largest construction fair FOR ARCH, businessmen can efficiently utilize the time spent.
Events at the fair FOR ARCH 2016 was attended by 64 Czech and 57 foreign companies, 20 German, 13 Slovenian, 13 Polish as well as Italian, Spanish and for the first time companies from overseas - Indonesia, Korea and USA.
During one day 258 meetings was held. On the spot it was possible to consult European program Horizont 2020 or the issue of transmission of workers and cross-border provision of services in the construction industry. The afternoon program included meetings as well as a tour of the exhibition with an escort, which was particularly welcomed by foreign participants. The event brought together companies from the construction and related fields, production of windows and doors, electrical and automation for industry and households, staffing agencies, IT, consulting and other companies offering the latest in construction innovations. Among Czech participants were small and medium companies as well as small traders. Meetings were interesting also because mainly German participants were primarily looking for new subcontractors of construction works and product for German market.
An interesting participant flew I from the USA – the American company inquiring manufacturer of wooden pergolas for its clients in Europe. During one day he held 8 meetings mostly with Czech companies. At the end he was very pleased because the event fully met his expectations: first map the Czech market with manufacturers' pergolas, but also directly establish the first contacts with Czech producers and suppliers.
All the participants appreciated the secure for business meetings, including interpreting international meetings. The survey conducted immediately after the event shows that almost 30 meetings resulted immediately to mutual cooperation in both international and Czech participants among themselves. Even those who came for such meetings for the first time with fear of what lay ahead evaluated the meetings very positively and talked about meaningfulness of organizing such meetings.
More information about the Matchmaking FOR ARCH 2016 can be found on the website: http://forarch2016.talkb2b.net/
International trade negotiations not only in fields of construction will be organized by EEN in 2017, for more information check our website website www.crr.cz/een .