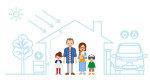 One of the tasks of an intelligent house or intelligent household is energy independence of external suppliers. Solar panels will facilitate independence of the suppliers of electrical energy. A smart house is able to be self-sufficient in many areas and it almost does not need any surrounding resources.
Photovoltaic panels which are installed on the roofs of the houses are, however, unable to generate energy continually in the same volume with regard to weather and annual seasons, and the consumption of households is also rather changeable. The solar system usually supplies any excess of power back to the transmission grid. The owner of the house is then paid for this energy from the supplier. In case that a photovoltaic power plant does not generate enough energy, it conversely takes energy from the transmission grid. A part of a smart household is energy self-sufficiency, i.e. operation without connection to the transmission grid, and the designer's task is therefore also to propose where and in what volume it will be possible to store the electrical energy generated.
To store electrical energy directly in electrical batteries is expensive, the acquisition costs of the above mentioned systems are not low, it is true, but the high initial capital expenditures return back to the house owners during the time in the form of savings of costs of heating and electricity consumption.
The visitors interested in intelligent living and security equipment of buildings will be able to acquire more information, advice and inspiration at the International Building Trade Fair FOR ARCH, which is to be held at the PVA EXPO PRAGUE on 19 to 23 September 2017. The companies offering technologies of intelligent buildings as well as security systems will present their products and services in Hall no. 4.